What is Vitiligo and how does it occur?
What is Vitiligo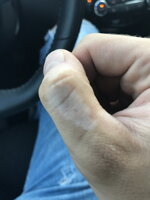 What is Vitiligo and how does it occur?
Vitiligo is an acquired skin depigmentation disorder. It occurs in 1-2% of the population. In 30 - 40% it has a familial incidence. It affects both genders and occurs usually between the age of 10 to 30.
Vtiligo arises as a result of the disappearance of pigmented skin cells - melanocytes, which produce a skin pigment - melanin, which is responsible for skin color, most often on an autoimmune base.
Autoimmune destruction of melanocytes when the immune system generates antibodies against its own pigment cells. White blood cells and antibodies attack melanocytes, destroying them and causing depigmentation. Vitiligo is often accompanied by other autoimmune diseases (eg thyroid diseases).
The exact cause of the disease is unknown, but there are 3 theories behind.
The most common is autoimmune destruction of melanocytes.
Another theory relies on self-destruction by its own enzymatic processes in the failure of cell cycle regulation under oxidative stress.
The latest theory is the neurohumoral hypothesis, which claims that melanocytes are destroyed by neuromediators - substances involved in signal transduction between nerve cells. Several factors and factors co-exist in the onset of this disease, so the cause of the process cannot be clearly explained.
Disease triggers may include stress, or trauma.
The term oxidative stress is understood as a disturbance of the balance between the formation of free radicals and their removal by means of natural scavengers - cellular antioxidants. Antioxidants can play an important role in neutralizing oxidative stress and diseases caused by free radicals - including Vitiligo.
Vitiligo symptoms
The first symptom of Vitiligo is a white spot on the skin, which gradually increases. Sometimes stains can be joined to form a large stain. Most often they appear on the hands, feet, genitals or even on the face.
Treatment of Vitiligo - repigmentation
The goal of vitiligo treatment is to achieve repigmentation. Not only in terms of aesthetic, but also protective. The site affected by vitiligo is not naturally protected from the effects of sunlight. Currently, vitiligo cannot be satisfactorily treated. Treatment includes conservative and surgical methods. The choice depends on the location, extent and duration of the disease, the patient's age, skin phototype, and prior treatment.
Types of Vitiligo treatment
Phototherapy uses ultraviolet light at a wavelength of 311 nm.
Vitix gel is used to control depigmentation and management of vitiligo (white spots on the skin). It regenerates melanocytes and helps restore the natural formation and amount of melanin skin pigment.
Vitix tablets are nutritional supplement against oxidative stress , tablets contain the patented herbal active ingredient EXTRAMEL® in combination with vitamins (C, E, B9, B12) and minerals (selenium, copper, zinc). Vitamin C, vitamin E, copper, selenium and zinc help to protect cells from the oxidative stress.
Vitamins and minerals play a key role in promoting healthy skin and fighting against oxidative stress. Detailed information on the effects of individual vitamins and minerals can be found in the Vitamins and Minerals section.
Specialized Vitiligo ointment on prescription
immunomodulators - suppresses a severe immune response in our body so that it does not hinder the formation of a new pigment
psoralens - sensitizes skin to sunlight, encourages cells to produce more pigment
corticosteroids
Marine collagen
Collagen is a protein that is found virtually throughout our body. However, it most affects the condition of the joints and the appearance of the skin. It is for these two reasons that it is essential for us.
It is common knowledge that since the age of 25, the human body starts to gradually loose its ability to form collagen, and its amount is reduced by 1.5% every year. After 40 years of life, the human body does not create it almost at all. To maintain healthy and supple skin it is important to replenish it regularly.
Interesting facts about Vitiligo
Inheritance Vitiligo
Vitiligo is genetically conditioned. However, the influence of genes on its formation is weak and inconsistent. Its inheritance is influenced by several factors, not just genes. There is talk of a multifactorial inheritance. According to the latest research, 2 genes are involved in the creation of the vitiligo. This is enough, since many other diseases require only one. It is therefore a combination whose inheritance is difficult. The chance of direct inheritance of the Vitiligo by the parent is 7.1%.
How do pigment spots occur?
HOW T-LYMPHOCYTS DISPOSE OUR PIGMENT?
These cells are part of our immune system, responsible for destroying viruses or tumors in the body. But in humans with vitiligo they also accidentally destroy pigment cells.
Principle: When lymphocytes attack a virus or tumor, they produce an immune-stimulating interferon-gamma molecule as an alarm signal. In a skin cell reaction called keratinocytes, they amplify this signal (calling for further help). They create a biochemical cascade that attracts other confused T-lymphocytes to the skin, where they encircle pigment cells - melanocytes . This is repeated all the time. The army of T-lymphocytes is increasingly producing interferon-gamma. The result is a vicious circle of destruction of the pigment cells. depigmentation.
Science already blocks the production of interferons, but it has serious side effects, because production alone is needed for our immunity. For this reason, we are looking for ways to break this vicious circle differently.
One way is new medicines, so-called. HOW inhibitors that can damp this "call for help". The problem then remains memory vitiliga, ie. resuming attacks as soon as drugs are discontinued. This is due to memory T lymphocytes that remain at the site of the former spot (they remember the "disease" they attacked and attack the same places again.) This is what current research seeks to address.
What Vitiligo examinations require?
You often ask what examinations you should have with your doctor.
For people with Vitiligo, it is recommended to examine:
Thyreotropin (thyroid examination )
Antinuclear antibodies
A blood count with a differential budget will help eliminate anemia
Glycemia or glycated hemoglobin reveals diabetes mellitus
Vitiligo may be associated with other autoimmune diseases and it is therefore recommended to perform the above examinations. Treatment of vitiligo is not successful unless its cause, which can be discovered by one of the above mentioned examinations, is not successful .
Vitiligo is occasionally associated with other autoimmune disorders that may not be severe. Such diseases may include: thyroid disorders where coincidence with vitiligo is up to 30% (both increased and decreased thyroid function, eg Graves-Basedow's disease, Hashimoto's thyroiditis), Diabetes mellitus, Malign anemia (anemia), Rheumatoid arthritis, Crohn's disease (nonspecific intestinal inflammation), Addison's disease, Systemic psoriasis lupus erythematosus, Myasthenia and others
Thank you.
Vitiligoshop
Poll
How about you and your family members?