How to fight vitiligo - Our stories
How to successfully repigment and stop vitiligo? - the answer is "PPPeter"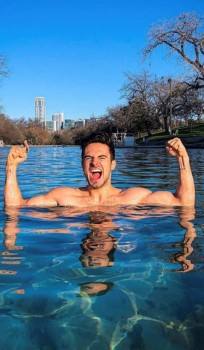 I would like to introduce you to a well-known personality of the Slovak and foreign internet, a very positive and an amusing man who successfully fought with vitiligo.
He is none other than the internet entertainer Peter Popluhár, appearing under the instagram nickname PPPeter. 
How did it start?
Since Peter has always been a passionate traveler and loved Africa in particular, he decided to visit african countries and shoot a lot of fun videos from there. However, he did not yet know that he would take vitiligo from there and that he would almost lose his life. Peter became infected with dangerous malaria, which brought his body to the brink of strength and triggered vitiligo.
It was not easy for him even after returning from Africa. He devoted himself especially to work that was not easy at all and had a great impact on his life. Because he often worked under the pressure and during the night, a bad lifestyle quickly spread vitiligo.
I noticed the familiar white spots around Peter's neck and eyes when I was watching his funny videos. I immediately knew that Peter also was affected by vitiligo, and I decided to contact him for help.
Peter did not refuse my help, he listened carefully and followed all instructions.
How to stop vitiligo from spreading? Answer is the lifestyle!
He understood that if he wanted to stop the uncontrollable spread of vitiligo, he had to drastically change his bad lifestyle:
He adjusted the length and quality of sleep
He started doing sports even more (gym, running, football ...)
He limited partying and drinking alcohol
He changed eating habits (high quality food rich in vitamins)
He started with cold water therapies and breathing exercises (strengthening the immune system with the help of the Wim Hof ​​method) 
The treatment
The treatment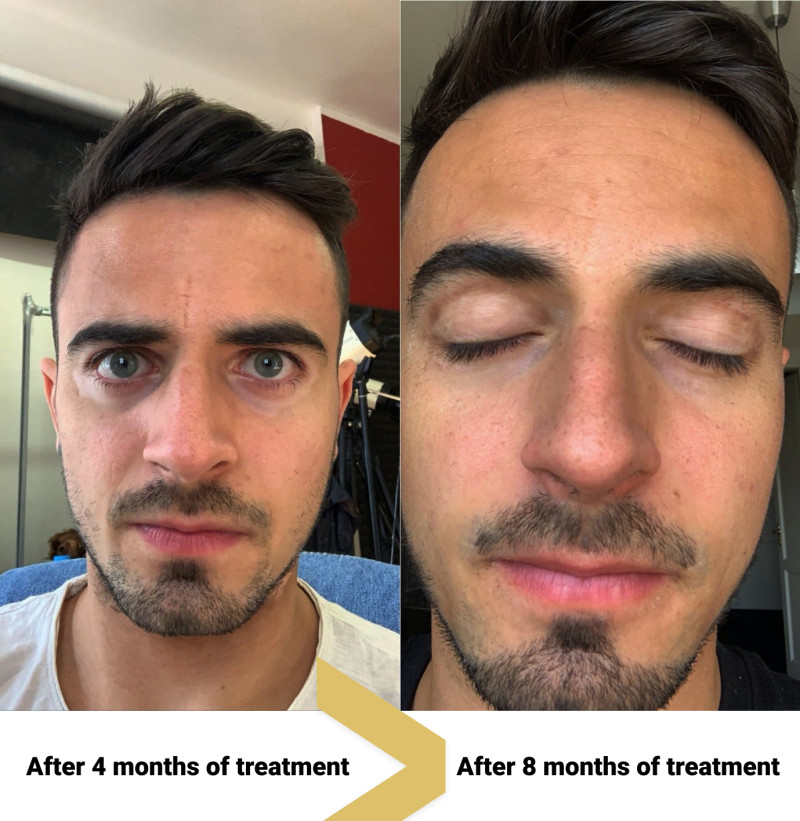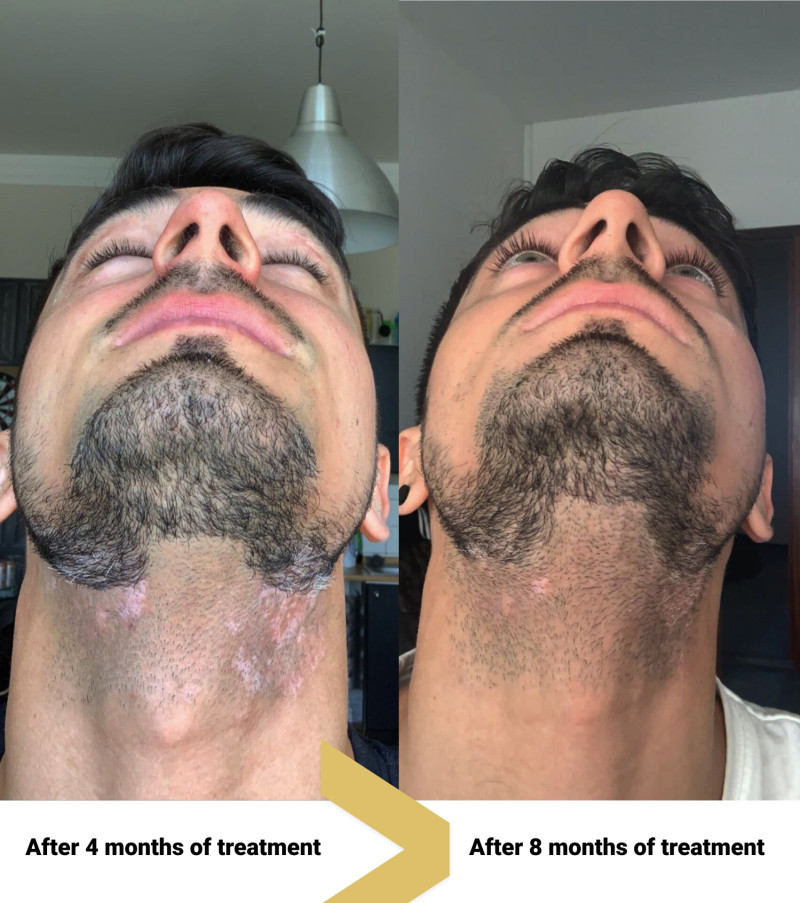 Peter also left us references on the IG account: patopopular. Thank you Peter.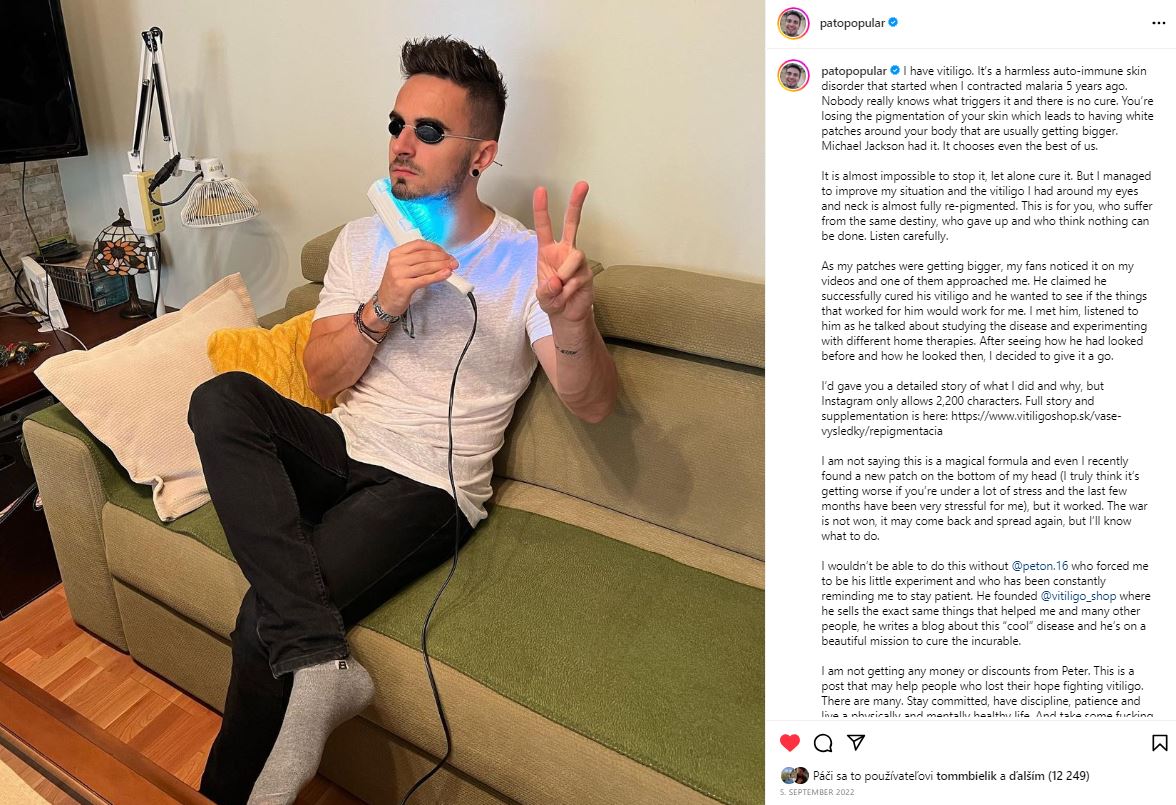 After a successful start to a healthy regime, Peter started phototherapy and nutritional supplements.
Like most people, Peter started to lose patience with the treatment. The results did not show up and Peter wanted to give up. After some motivational talk, Peter calmed down and continued the treatment. It finally paid off after half a year. The results were in a form og a very active repigmentation. It repigmented all the white spots on his face and 80% of the spots on his neck.
He is currently completing his neck treatment and will send us more photos of this successful repigmentation.
Products used for the treatment
Dermalight 80 - UVB lamp with a wavelength of 311 nm
Vitistop gel - the most effective product to support repigmentation
Vitistop tablets - A combination of all the necessary vitamins and minerals that the body affected by vitiligo needs the most.
Gingko - Vitiligo has positive antioxidant and immunomodulatory properties.
Vitamin D3 - supports the immune system and the restoration of pigmentation, especially during the winter months. 
Treatment procedure
Irradiation / Phototherapy - 3 times a week for 5 minutes on each affected area. The result of irradiation should be a slightly red colored area of skin affected by vitiligo. Further irradiation is allowed only after the red colored irritated skin has faded, which can sometimes take up to two days.
Vitistop gel - supports the efficiency of phototherapy and is recommended to apply 10 minutes before phototherapy or irradiation.
Vitistop tablets - serve as an internal support and regulate oxidative stress in the body, which is also responsible for spreading of vitiligo. Take 1 tablet every morning after breakfast.
Gingko - 1 tablet after breakfast
Vitamin D3 - 1 tablet after breakfast (except during the summer months)
Carrot juice - a drink rich in beta-carotene drinks almost every day "
Conclusion

Yes, vitiligo is really a matter of good lifestyle, stress reduction and great patience. There is no one who can be cured in a month. It's a lifelong struggle and it's up to each of us how to deal with it.
If you have also achieved interesting results and you want to share it with others, contact us at the email address info@vitiligoshop.net