Collagen and Vitiligo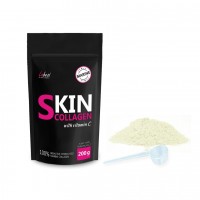 In what context do we associate collagen with vitiligo? Why do we offer it in our store? We took a closer look at its effects and since I have Vitiligo myself, I wanted to try it to see if I could see any change in my skin.
What exactly is collagen?
Collagen is the most abundant protein in the body, it makes up 30%. The biggest disadvantage of collagen is the decrease in its production over the years. It starts to decline around the age of 25 and around the age of 40 it almost does not form at all. It affects not only the quality of the skin, but also many other processes in the body. Around the age of 45, collagen production drops to a minimum.
Collagen has a large number of confirmed effects on the human body:
• supports the health of the joints and musculoskeletal system
• helps reduce joint pain in active sports people
• strengthens the skin, increases its elasticity and hydration
• slows down skin aging, eliminates the formation of wrinkles
• helps to improve the quality of hair and nails
• helps the regeneration of joints, tendons and bones
It can be supplemented through diet and through food supplements with a high collagen content.
While there is currently no cure for vitiligo, some studies suggest that collagen supplements may help improve skin health and reduce the severity of symptoms.
One study published in the Journal of Cutaneous and Aesthetic Surgery found that collagen supplements improved skin hydration, elasticity, and density in patients with photoaging skin. Another study published in the Journal of Cosmetic Dermatology found that collagen supplements improved the appearance of fine lines and wrinkles in women aged 35-55.
However, it is important to talk to your doctor before taking any supplements, especially if you have a medical condition or are taking medication.
"After studying several sources, I also tried collagen as a patient suffering from Vitiligo. In addition to Vitiligo, I also suffered from the deterioration of the quality of my skin and nails. I bought high-quality marine collagen - Skin Collagen and vitamin C for better absorption of collagen into the body.
I used collagen for more than half a year and saw the first changes in myself. The quality of the skin was better. I can't say for sure if it was the collagen in combination with other vitamins and the sun, but since I started taking collagen, the first signs of repigmentation appeared for the first time in almost 4 years. There are different types of collagen and, as with other medicines, I definitely recommend going for quality. "
It should not be forgotten that many people with Vitiligo perceive a second problem associated with light therapy. Like any tanning, light therapy "ages" the skin. So collagen supplementation can only help in this regard.
CONCLUSION:
In addition to the mentioned studies, we have tried collagen and can recommend it at least for improving the condition of the skin, but we do not rule out the possibility of the first repigmentation appearing just after prolonged use of collagen, as it was in my case. That's why we decided to offer collagen in our store as a treatment supplement for Vitiligo repigmentation.
Recommended articles:
Phototherapy – Light treatment
I WANT TO BUY A MARINE COLLAGEN
(1020010)

100% pure bioactive marine collagen powder made from fish by special enzymatic hydrolysis.
Poll
Have you tried to include collagen in the treatment process?