Collagen and Vitiligo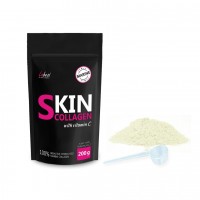 Hello,
I would like to share my story with collagen. I happened to read half a year ago in a magazine that collagen production has been slowing down significantly in people since the age of 25 and that collagen is a protein found throughout our body and affects the condition and quality of skin and joints. Since I have suffered for a long time in addition to vitiligo and deteriorated quality of skin and nails, I thought it was worth trying. I think there is a chance of a beneficial effect on Vitiligo, so I bought high-quality marine collagen and vitamin C for better collagen absorption in the body.
I have been using collagen for more than six months and I am satisfied. Skin quality is better. I can't say for sure whether it was collagen in combination with other vitamins and the sun, but since then, the first signs of repigmentation have appeared for the first time in almost 4 years. There are different types of collagen and as with other medicines, I definitely recommend going for quality.
In addition, many of us perceive the second problem associated with it - light healing. Like every tan, light treatment "ages" the skin. Thus, collagen supplementation can only help in this regard.
I personally combine with collagen also various vitamins and minerals (Beta-carotene, B-complex forte, Zinc + Selenium, D3, E)
I WANT TO BUY A MARINE COLLAGEN
(1020010)

100% pure bioactive marine collagen powder made from fish by special enzymatic hydrolysis.
Poll
Have you tried to include collagen in the treatment process?