Phototherapy – Light treatment
Treatment procedure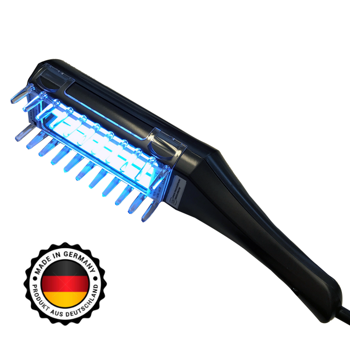 here are a number of medical and surgical procedures aimed at repigmentation and achieving an acceptable cosmetic result, but the best-known and most effective treatment for vitiligo certainly includes phototherapy. Phototherapy is reserved for patients who have failed topical treatment. It has been used to treat patients with vitiligo since the beginning of the 19th century.
You can decide for home phototherapy, that is, use a handheld UVB lamp or visit medical facilities and go for regular radiation combined with psoralen (a prescription medicine that increases sensitivity to UV radiation).
In our online shop, we offer a high-quality German product - Dermalight 80 handlamp intended for home use.
Properties of the UVB 80 dermalight lamp
Dermalight 80 is a high-quality German handheld UVB phototherapy lamp for the treatment of all types of psoriasis, vitiligo, eczema and similar skin diseases on the body and scalp. Dermalight 80 uses UV-B/311nm narrowband lamps that have a precise and unique distribution of spectral energy with an emission peak at 311nm that minimizes potential side effects such as redness and itching. A shorter exposure time is also required. More effect, less discomfort.
Dermalight 80 can be used to treat all parts of the body, including the scalp, using the special comb attachment included in the product. The comb attachment can also be used as a distance protector when treating other parts of the body.
Although the device is intended for consumer home therapy, it is also used by many professional dermatologists, clinics and hospitals around the world. The device has passed the strictest EU laboratory safety tests and has a CE certificate as a medical device. The CE certification expresses compliance with the health and safety requirements set forth in international directives.
Advantages of using a hand lamp:
• Suitable for treating the body and scalp UVB dermalight lamp
• Wide treatment area: 5 cm x 15 cm (2" x 6")
• Portable, lightweight and easy to use
• Safe and effective
• Short treatment time
• Simple and quick cleaning
• Ideal for home therapy
• Made in Germany
Treatment procedure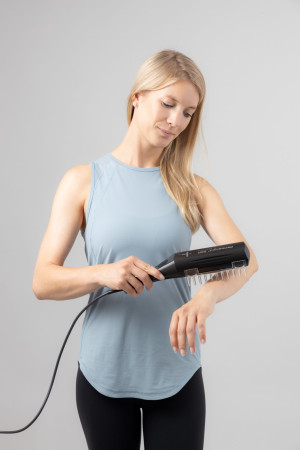 The length of the treatment procedure is individual for everyone, but the average estimate of the duration of therapy is 4-14 months. The goal of phototherapy treatment is to stop the progression of the disease and mainly to induce repigmentation, thereby achieving an acceptable cosmetic result. Although this treatment is time-consuming, the first results often come in just a few weeks. Some of our customers managed to repigment smaller areas in a short time thanks to UVB Dermalight.
You can see more about the results of repigmentation with a combination of a UVB lamp and our products for vitiligo in the section: "Your results".
How to use the lamp:
1. The first exposures start at 20 seconds for the given area covered by the lamp (11x4 cm). We gradually increase this time with each subsequent irradiation until we reach the required time, which is in the range of 4-5 minutes max.
2. To use the lamp, simply place it on the affected area.
Do not forget that every skin type is different and therefore the exact time of the rays cannot be clearly determined. The ideal result of irradiation is a subtle redness of vitiligo, which occurs shortly after the end of the irradiation and can persist for the next day as well.
If the skin is too burnt and red even after two days, then it is necessary to reduce the irradiation time and find the ideal one (example: after 4 minutes of irradiation, your skin is too red already on the third day, so for the next irradiation, subtract 45 seconds and you will only irradiate 3 minutes and 15 seconds).
How often do we irradiate?
1. We irradiate 3 times a week in a period (from 20s. - max. 4 minutes) to each area for a period of 3 months.
2. After 3 months, we irradiate twice a week.
During the summer, it is recommended to take a break and not expose the body to two types of radiation.
If we are irradiating and the sun is shining that day (spring), it is recommended to apply a 50+ factor after irradiation so that the skin is not exposed to a double tan on that day. The spring rays are also very strong and on that day of irradiation, there may be even more redness.
Positive results have been seen in as little as one week, but results vary between individuals and the severity of the condition.
Phototherapy must be controlled by a dermatologist, who will then complete the entire therapy process.
What to combine phototherapy with? Vitistop gel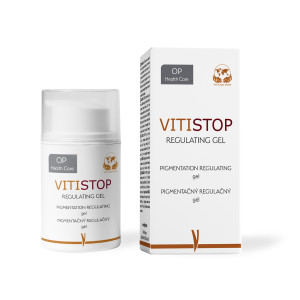 1. VITISTOP gel – Vitistop is a special cream developed for vitiligo repigmentation. The combination of active ingredients: Superoxide dismutase (S.O.D), Psoralea seed oil (Babchi oil), copper, zinc and vitamins B5 and B12 contribute to skin pigmentation.
In combination with a UVB lamp, Vitisop gel must be applied at least 60 minutes before the actual irradiation or tanning in the sun.
It is very important to use a cream with a protective factor when staying in the sun for more than 10 minutes!
Vitistop gel increases the sensitivity of the skin to light, therefore radiation from a UVB lamp or the sun must be dosed very carefully.
You can read the exact instructions on how to apply this gel to the skin HERE.
The result after few months of using Vitistop gel:

2. VITISTOP tablets -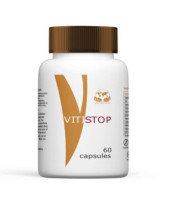 Vitistop tablets are recommended to be taken every morning after breakfast. They contain all key vitamins and minerals in such abundance that no other nutritional supplements need to be taken.
After 3 months of use, we recommend a 2-4 week break.
3. Protopic 0.1% - apply twice a day - morning/evening. Do not apply Protopic before radiation. Either skip Protopic that day or use it after radiation. It is possible to continue with Protopic for a long time, there is no need to interrupt the process. Protopic 0.1% is a prescription, so we recommend consulting your dermatologist about the exact use.
4. Other supplements – Chlorella, marine collagen, fruit smoothies are dietary supplements that play an important role in the fight against vitiligo.
You can read more about necessary vitamins in our blog: "Vitamins for vitiligo".
Last but not least, if you decide to have phototherapy at home or visit medical facilities, it is very important to follow a healthy lifestyle and eliminate stress.
You can read the importance of the impact of stress on vitiligo in our blog "Vitiligo and stress".
We have prepared for you a simplified procedure for vitiligo repigmentation with the Dermalight 80 handheld lamp "The home treatment" -> E-book
For advice on treatment, products or orders, do not hesitate to contact me.
We're keeping our fingers crossed for you!
Don't forget to share your results with us.
Your Vitiligoshop
Poll
Have you tried to include phototherapy in the treatment process?