Your results
Pppeter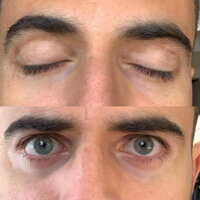 Hello,
my detailed story of how I cured vitiligo is HERE.
Romi Hi to all:-)
I think to my repigmentation the most helped my diet, eating a lot of vegetable and fruit, various smoothies, reducing gluten and white sugar intake to a minimum. Furthermore, supplementation of antioxidants, especially Ginko, N-acetylcysteine (NAC), Vitamin D3 (initially 1000 and subsequently 5000 IU - strong immunomodulatory effect), L-Tyrosine, PABA, Copper, Vitamins B + B12, Zinc and folic acid. Alternatively green barley or chlorella. Furthermore, sport, positive thinking and lighting hand lamp Dermalight 80th The first signs of repigmentation occurred after about 2 months. Mainly, do not to panic, the biggest successes come after half a year to a year and sometimes even later.
Andrea "Hello, thank you very much for your support and especially pills for Vitiligo treatment. I have Vitiligo since I'm 9 years and I have it for about 80% of my body. I gave up my fight because I would have to buy Vitix gel in kilos...Early summer I tried your Vitix tablets...it might be miraculous! Especially in combination with sea and sun. In those few months, I have hundreds of dots on my hands that are connected and for the first time in x years I feel like it could be cured! Thank you very much. "
Niké