Light treatment
Dermalight is a German UVB lamp for phototherapy, which has already helped thousands of patients around the world. Although the lamp is designed for home treatment, it is also widely used by professional dermatologists in clinics and hospitals. The lamp is used to treat all body parts, it's lightweight and portable. The lamp ridge guarantees the ideal distance between the skin and the lamp.
The recommended duration of treatment is 4 minutes 3-4 times a week for each treated area of ​​the body. Positive results appear within a few weeks, but are very individual among individuals. We recommend you to consult treatment details with your dermatologist.
The device has passed the strictest EU tests and is certified as a medical device. CE certification indicates compliance with the safety and health requirements set out in international directives.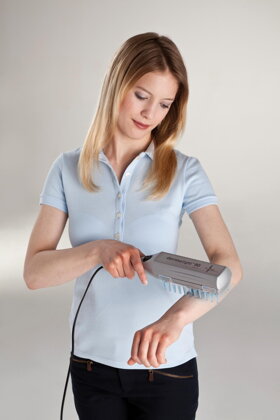 DISCOUNT TOP SEARCHED

(1400010)

German handheld UV lamp for home light treatment with UVB radiation with a wavelength of 311 nm.

DISCOUNT TOP SEARCHED

German handheld UV lamp for home light treatment with UVB radiation with a wavelength of 311 nm.

In stock

365 €

430 € Discount 15.1%