Nutritional supplement against oxidative stress.
Antioxidants can play an important role in neutralizing oxidative stress and diseases caused by free oxygen radicals - including Vitiligo.
• Combination of primary and secondary antioxidants
• Contains the proprietary herbal active ingredient EXTRAMEL® in combination with vitamins (C, E, B9, B12) and minerals (selenium, copper, zinc). Vitamin C, vitamin E, copper, selenium and zinc help to protect cells from oxidative stress.
EXTRAMEL® - patented plant ingredient - combination of 2 highly active enzymes, has high antioxidant content, restores physiological balance of free radicals in epidermal cells, increases prooxidation ability of epidermal and melanocyte cells, decreases hydrogen peroxide concentration
Dosage:1 pill daily with water during meals.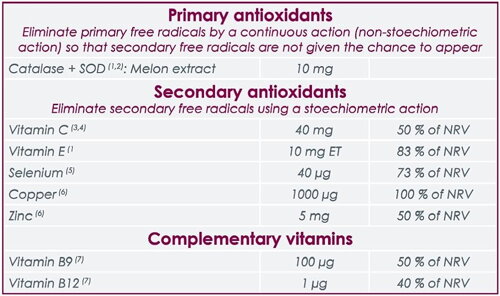 Eugenio, 9.4.2021 12:56.47
Good product, very fast delivery